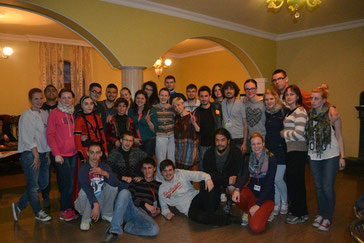 Bakuriani, Gruzja

18-26.04.2014
SMIT "CREATOR" members were participating in the TC project called Youth Employability Skills – Future co-ordinated by Youth Center of Georgia.
The TC "Youth Employability Skills – Future" is designed for youngsters to develop skills relevant to the labor market, ensuring work experience and helping young people find a first good job, offering new tools to engage with individuals, communities, colleagues, partners and the world at large. To improve opportunities for young people to get sustainable job opportunities, thereby encouraging social inclusion and employment rates.
Following are examples of methods that will offer further knowledge and understanding of this issue: 
Participants will compile top employability skills, which they look in potential employees. Participants will have the opportunity to share their experience at European level. 
Youth In Action programme will be presented to the participants and more practical training session will take place providing skills for project and team management, risk assessment and preventions, cultural adaptation. 
Employability refers to a person's capability for gaining and maintaining employment. For individuals, employability depends on the knowledge, skills and abilities they possess, the way they present those assets to employers. As such employability is affected by both supply-side and demand-side factors which are often outside of an individual's control.